Powder Highway 'Beer Goggles Edition'
The good times flow from sun up to sun down on this fun filled package tour through the best that the Kootenay Mountains have to offer both on and off the slopes. In classic Canadian Spring skiing fashion we will shred the soft groomers or spring powder of Fernie, Kimberly*, Whitewater and the legendary Red Mountain by day, then sample from the best craft breweries by night. Although we can't guarantee snowfall, springtime in this part of the world often sees 20-30cm deep days as the convective storms of the area produce the goodies, covering the uncrowded hills with surprise pow days. After a week of sunshine, groomers, or pow shredding; the experience finishes with a bang as we dive into the one of a kind "Beer Goggles" event at Red Mountain where we taste beers from over 14 of BC's top breweries in a 2 day on-hill party to be remembered.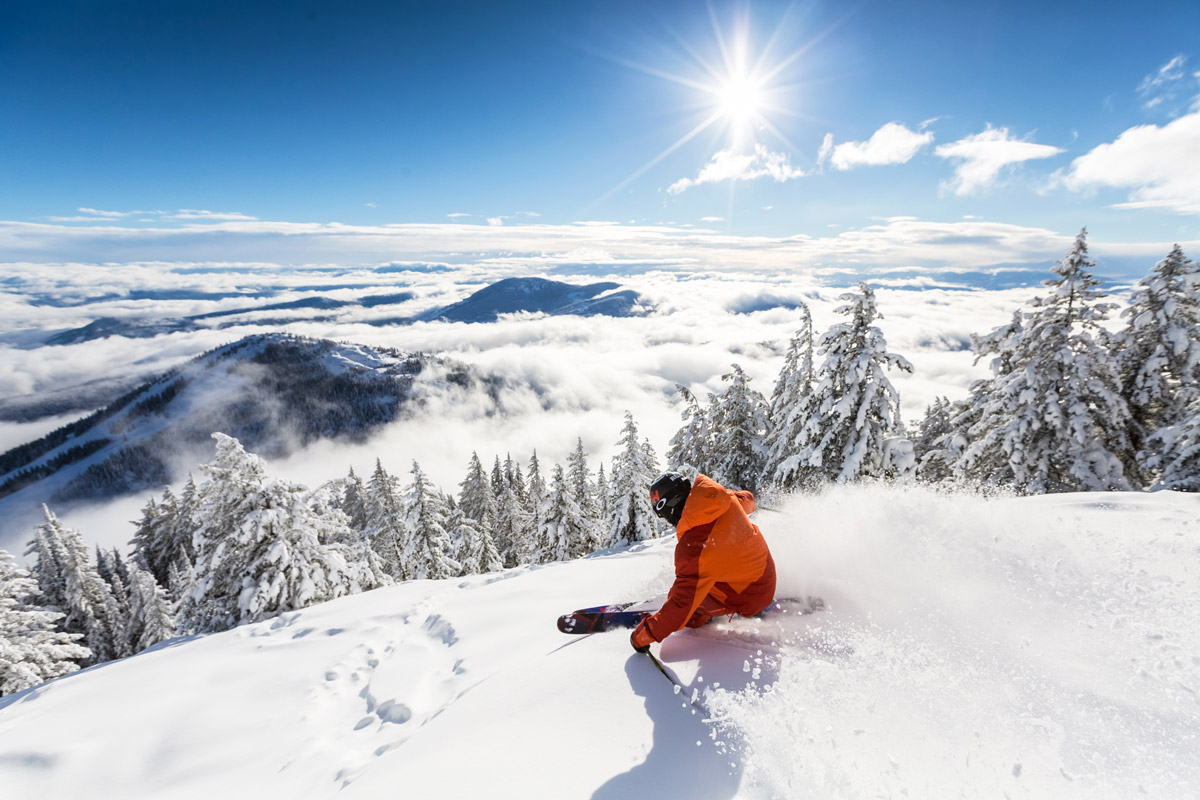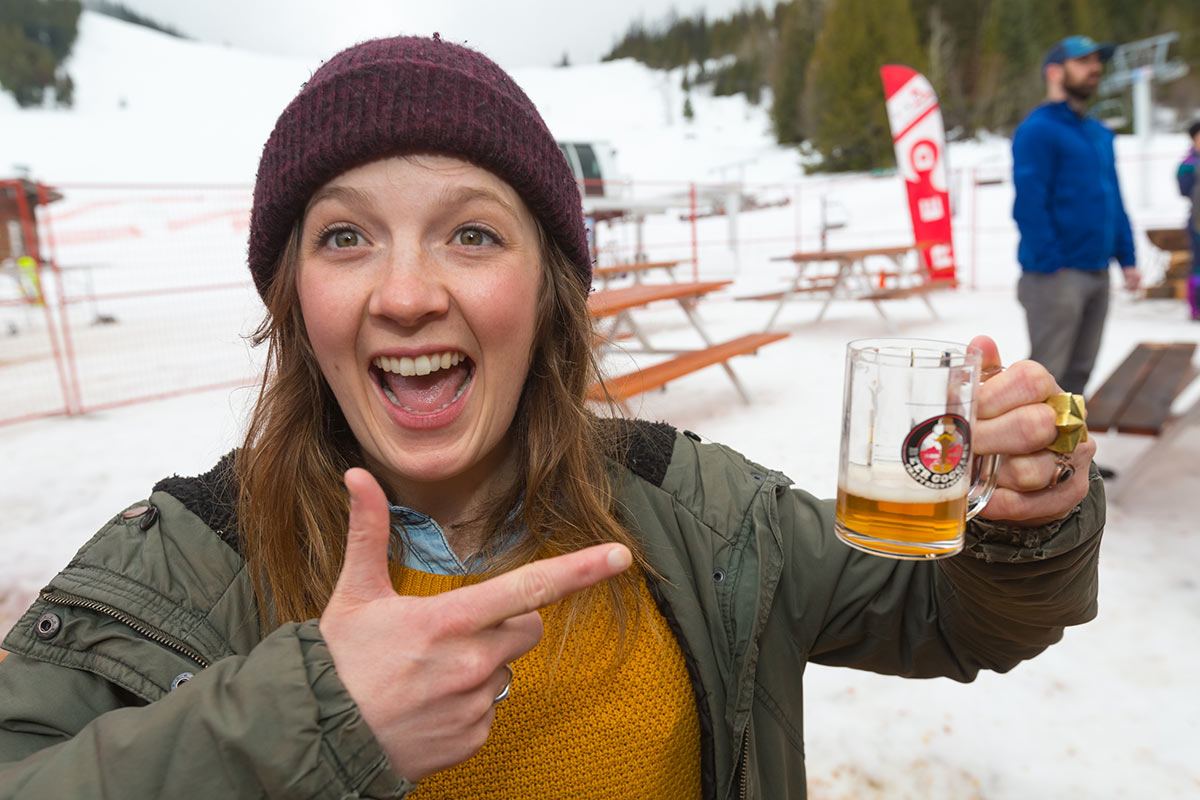 Get ready to have all the fun!
PRICING
Starting at $2490 CAD for 7 day trip
TOUR LENGTH
7 days - 5 skiing
GROUP SIZE
Up to 14 guests, 2 guides, 1 driver
START & END LOCATION
Calgary or Banff pickup and drop off.
Optional Spokane shuttle available.
SKI OR BOARD ABILITY
Beginner to Expert. (We will ensure you find the perfect terrain to suit your needs and challenge yourself at each resort)
LESSONS
We are happy to book these for you with certified instructors at each hill.
RENTALS
We can book Performance Powder Ski rentals as needed at each resort or ahead of time for the entire trip.
ACCOMMODATIONS
Wherever possible we choose boutique lodges or B&B's to provide the most authentic experience. Both in Fernie and Nelson you will stay centrally located at quality hotels with hot tubs and attached restaurant/bars and many amazing options within walking distance. While staying at Red Mountain during BEER GOGGLES, slope side condos each with their own hot tub make for the ultimate Spring skiing package!
MEALS
We provide 3 breakfasts and 1 group lunch. For all other meals we will make reservations for the group at the top restaurants in each town. Guest are always welcome to explore the cuisine on their own at each destination with transport arranged if needed.
OTHER ADVENTURES
Dogsledding, hot springs, scenic glacier viewing flights (fixed wing), cat skiing, ice skating, brewery tours, and snowmobiling are all optional* activities that we have experience arranging to ensure every moment off the hill is packed with enjoyment.
"FREE" DAYS
Free days allow the guests to partake in "Other Adventures", as mentioned above. Free days have been selected for appropriate locations that offer a great selection of experiences and activities. "Free" days can be selected as an extra resort day, with the option of buying additional lift passes at a discounted rate through Mountain Movements.
ADDITIONAL SERVICES
Massages and spa treatments can be booked in most of the towns we visit. In Nelson, Revelstoke and Golden we offer certified optional* mobile massage therapists to visit your hotel room.
*Additional cost for optional add-on activities.
- TOUR DATES -
Want to know more about this trip?
DAY 1 - Fernie, BC (Ski day 1) (Arrival)
Depart Calgary early as MM aims to have you in Fernie, BC around 10-11am. This is to make sure you make the most out of your first day hitting the slopes. Experience the world famous powder and bowls that Fernie has to offer. Unwind in the hot tub, but not before joining us for our first brewery stop of the tour; the Fernie Brewing Company. Explore the town of Fernie with a great selection of restaurants, bars and pubs. Be sure to pace yourself though, as this is only night 1of 6.

DAY 2 - Fernie/Kimberley, BC (Ski day 2)
Today is a great opportunity to really build your confidence up. Here we have the option of riding either Fernie again or Kimberley depending on the best snow and conditions of course. When your legs have had enough we head to Cranbrook for our accommodations. Here we can take you to the local brewery and explore some hidden hot springs for those interested. Tomorrow we head deeper into BC to find the real deep stuff.

DAY 3 - Drive to Nelson, BC (Rest Day)
After a relaxing sleep in we head to legendary Nelson B.C. On arrival you have a chance to explore this amazing little town. This beautiful mountain town is home to amazing food, culture and a very under-rated resort. Upon arrival you set up shop at the The Best Western located in the heart of town on iconic Baker Street, your home for the next 2 nights and a short walk to incredible cuisine and music. After check in, check out Torchlight, Backroads, or Nelson Brewing Company (Just 3 of the local breweries in town!) and see where the night takes us!

DAY 4 -Nelson, BC (Ski Day 3)
Today is all about indulgence. First, after a hearty cooked breakfast at your hotel, you will experience Whitewater. This small little ski resort is anything but small if size was determined by its snow fall. It averages over 40ft of snow a year! The runs here are shorter, but that just means you get to do more of them. Amazing snow and some of the best natural features a ski hill has to offer. The food at the resort is also world class, with Whitewater Café even having its own bestselling cook book. Back in Nelson after some shower and hot tub action, MM takes you into town to experience the amazing food, beer and cocktails on offer. Join MM for dinner or explore by yourself.

DAY 5 -Red Mountain + BEER GOGGLES, BC (Ski day 4)
This morning is an early start as we hope to be on the road by 8am to get to Rossland and RED Mountain. Here we give you the next two days to explore this hidden gem. Known as having the best tree runs in the business, this resort never fails to deliver. Today we wrap up the riding mid afternoon and then check in to your slope side accommodations with each condo having its own hot tub. Tonight is the first night of RED Mountain's BEER GOGGLES: CRAFT BREW FEST. A local craft beer festival right at the village base of the ski hill with 14 breweries & over 60 beers. You are given a 2-day pass which includes beer goggles sample tokens to try a countless number of BC craft beers, along with enjoying some great local music and food! Don't indulge too much as we do it all again tomorrow!

DAY 6 -Red Mountain + BEER GOGGLES, BC (Ski day 5)
On your second day at RED, you'll know the hill and be on your final day so don't leave anything in the tank, it's time to go big ! Today BEER GOGGLES hits again for round 2! Maybe you didn't try all the beers you wanted, well today is your chance. Dance the afternoon away with friends of new and old. This is a truly great way to end an amazing tour together.

Day 7 (Ride Whitewater)
Today the past week of epic snow and craft beer has caught up with us all. A sleep in is required with approximate departure at 11am. A beautiful scenic drive back to Calgary is ahead of us, however we have ample spots to stop for lunch and pictures along the way. Arriving back into Calgary at about 8-9pm. Drop off at hotels and airport is available. Drop off into Canmore and Banff can easily be arranged.
If you haven't had enough, you can always join our Powder Highway tour starting the next day! Additional accommodations can be organized through MM, as well as airport shuttles if required.
Whatever your plans; we look forward to accommodating you in order to ensure your trip is perfect.